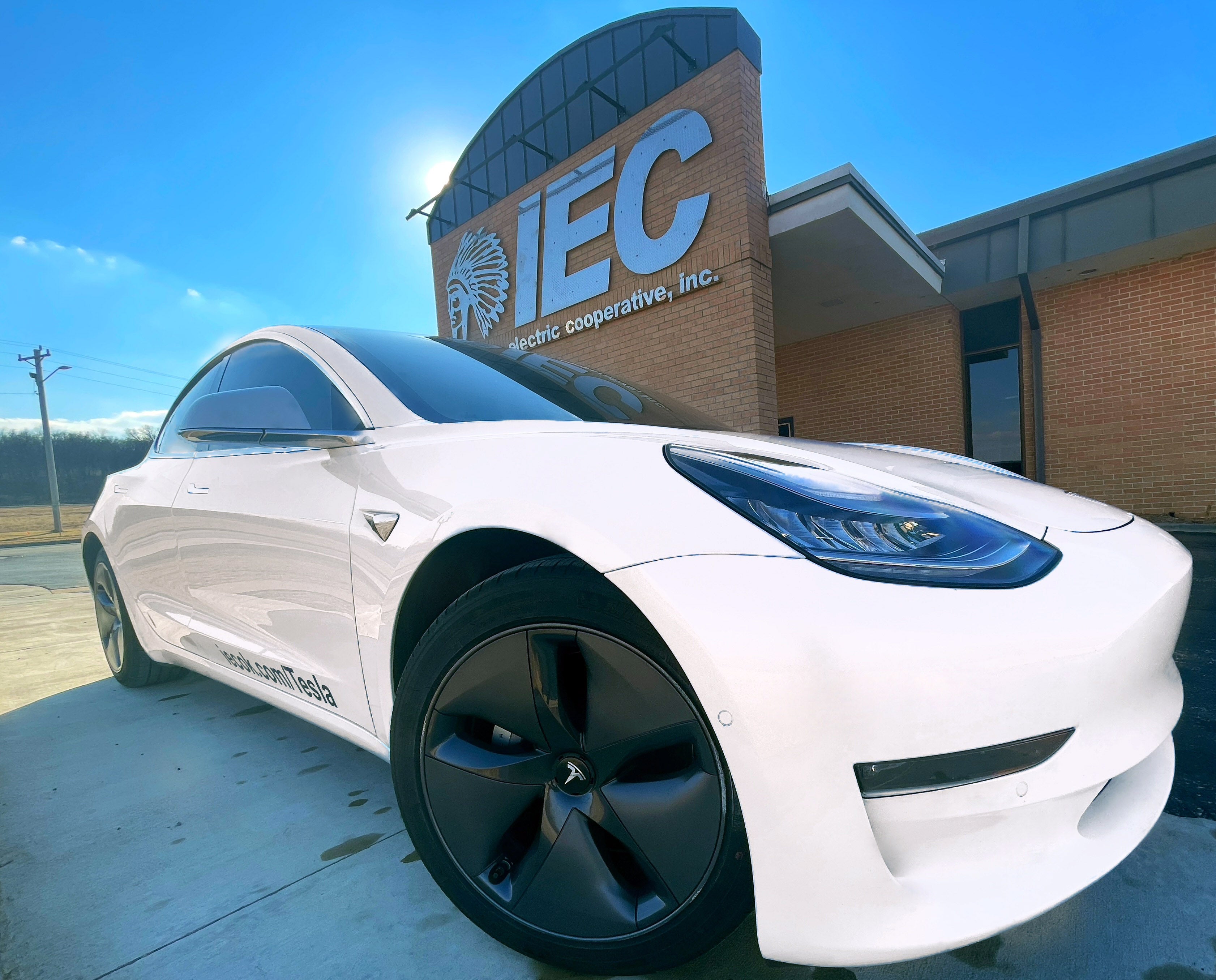 ​
From SUVs to pickups, Americans love a powerful automobile. But who says it has to run on gasoline?
A common misconception about electric vehicles is they are nothing more than a golf cart, when in fact, they are all about power and torque.
IEC believes in the future of electric vehicles and is confident in the steps its power suppliers are taking to ensure the infrastructure will be able to handle an increased load as EVs hit price points that are luring a wider consumer base.
The co-op even has added an EV to its fleet – a Tesla Model 3. The IEC Tesla has a range of 320 miles at full charge and goes from 0-60 mph in 3.1 seconds. Its horsepower equivalent compares to a Ford Mustang V8, but with a ride that feels smooth as glass. The Tesla rotates through co-op employees, with several staff members reporting they have been researching various makes of EVs and considering a purchase for their family use after taking the company car for a drive.
Electric co-ops throughout the nation hope their members will feel the same way now that Ford, Chevrolet, Dodge and upstart manufacturer Rivian have announced plans to roll out electric pickups in 2022 and 2023. As of October, Ford had received more than 150,000 reservations for the EV F-150, according to the National Rural Electric Cooperative Association (NRECA).
1,000 miles for $38?
Likely the most attractive aspect of EVs in the current economic environment is the drastic difference in operation costs when compared to traditional gasoline-powered vehicles. As The Lamp published, gas prices averaged about $4 per gallon nationwide. IEC tracks the monthly mileage and usage costs for the Tesla to run in its fleet. From October 1, 2021 to February 28, 2022, the cost to drive 5,458 miles was $266.29. In the month of February, as gas prices climbed, the IEC Tesla drove 1,085 miles for a total cost of $38.95 in electricity.
That's more than 1,000 miles driven for substantially less than one tank of gasoline in a traditional economy car.
While the internal combustion engine has dominated light-duty vehicles for more than a century, a new report from the Center for Automotive Research notes automakers are making big investments in electrification. Tesla and others broke into the market early with success in EVs. And the report notes that Ford is spending $11 billion on plans to offer 40 electrified vehicles by 2022, and Honda plans to have two-thirds of its lineup electrified by 2030.
While EV owners can charge their EV with a home charging station installed by an electrician for about $500 plus the installation cost, the vehicles also can be charged using a simple 240v home outlet. The latter does take a few more hours to reach full charge, but with a routine of plugging in overnight, you are set to go each morning.
"The biggest worry people have is where will they charge their car?" IEC Assistant General Manager David Wilson said. "Keep in mind when you charge overnight at home, you start each day with all full battery. Now you have 300 miles you can drive before you return home to charge again. How often do you drive 300 miles in a day?"
Public charging stations are becoming commonplace along Interstates, and here at home, they are available 24 hours a day for members and non-members in the parking lots of both the IEC Cleveland and Fairfax offices.
We have more about EVs on our website, including cost analysis, tax incentives and how IEC can help you with rebates for installing home charging stations. Find that info and follow the monthly stats for our fleet EV at IECOK.com/Tesla.
​