Annually, rural electric cooperatives each choose two high school juniors to represent our awesome state at Oklahoma Youth Tour in Washington, D.C. They join more than 2,000 student leaders representing cooperatives across the nation on a weeklong, all-expenses-paid trip to visit national landmarks, meet with their congressional representatives and learn what it means to be an actively involved citizen.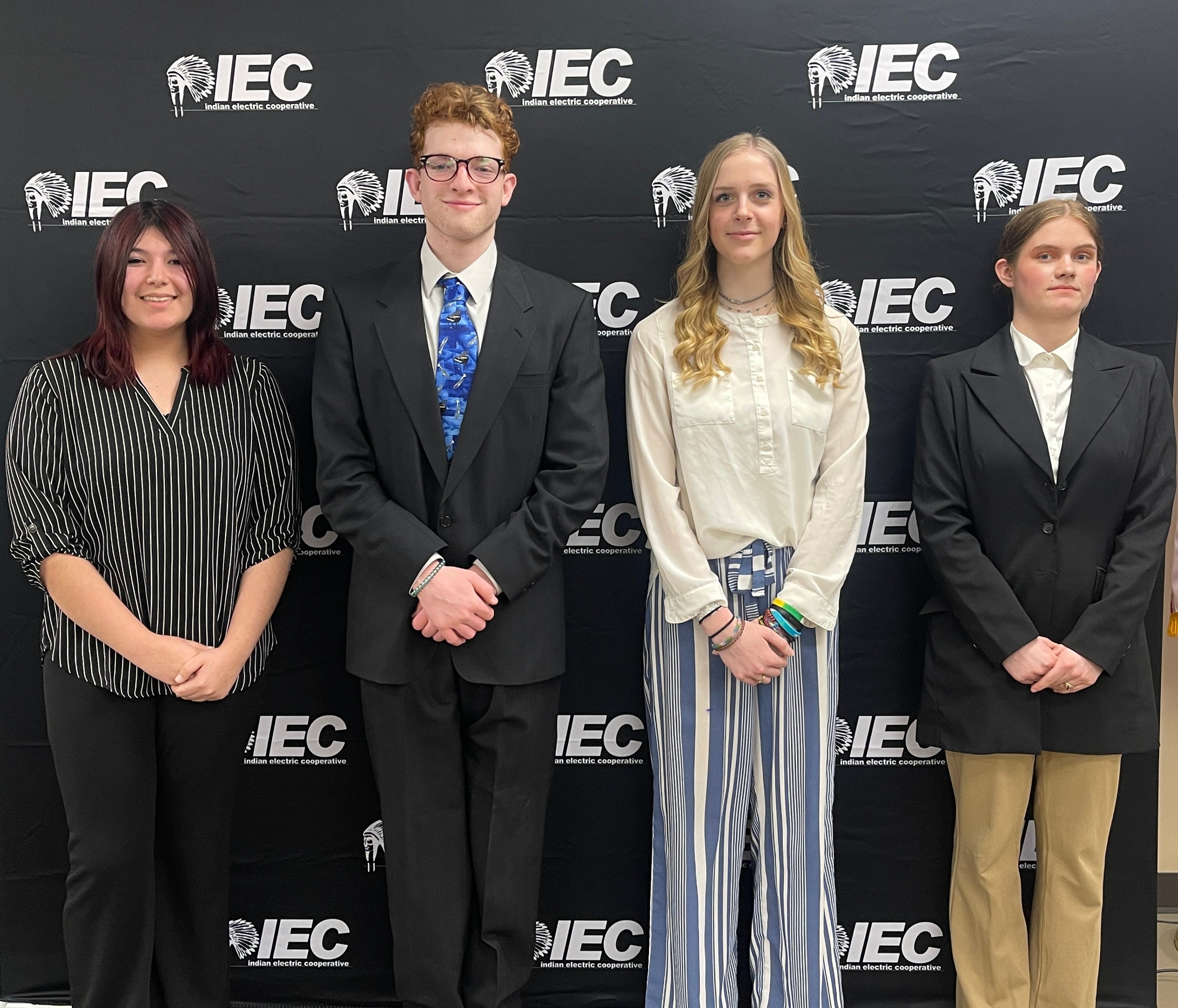 The students enter by writing a speech and creating a short video about rural electric cooperatives. Then, each co-op's finalists give their presentation to judges.
IEC hosted a lunch reception on March 2 for its finalists chosen from 43 high school juniors representing three high schools in our service area. The four finalists spoke on the given topic: "Indian Electric Cooperative distributes power that is generated from a variety of sources, both renewable and non-renewable. What are the positives and negatives of using only renewable energy?"
We are excited to announce the co-op and the state will be represented in D.C. June 16-22 by Pawnee High School's Quinn Brown and Cleveland High School's Katy Knapp.
Brown and Knapp received the highest scores from judges during their March 2 presentations, but it was a close contest. The runners-up, Anayla Williams and Brealynn Kelley, both of Pawnee High School, were not far behind in scoring. Williams and Kelley received an all-expenses-paid trip to leadership camp in Steamboat Springs, Colo., July 14-20 for their efforts. On both trips, the young IEC ambassadors will be representing Oklahoma's electric cooperatives, making new friends and becoming better leaders and citizens as they enter their final year of high school.
Williams also received special recognition for her video about "The Cooperative Difference," which IEC's Communications Administrator Brandi Ball said the co-op will be using for education initiatives and advertising. For her standout talents, Williams was awarded an iPad to foster her digital creativity.
IEC's 2023 Youth Tour judging panel included Jay C. Byers Librarian Michelle Miller, Central Rural Electric Cooperative Communications Specialist Kory Bowman, and Kelly Hurd, a member of the board which manages the Tall Chief Theater, and the former Osage County Tourism Manager.
Judges scored students on poise/confidence, content/information, organization/delivery and effectiveness. They were awarded up 10 extra points for their accompanying video.
IEC would like to thank the educators who help advocate for the Youth Tour and annually encourage bright, young students to participate. A special thanks this year to teachers of the finalists – Cleveland's Lana Ingalls, herself a former Youth Tour winner, and Pawnee's Myra McCurry and Becky Beagle.