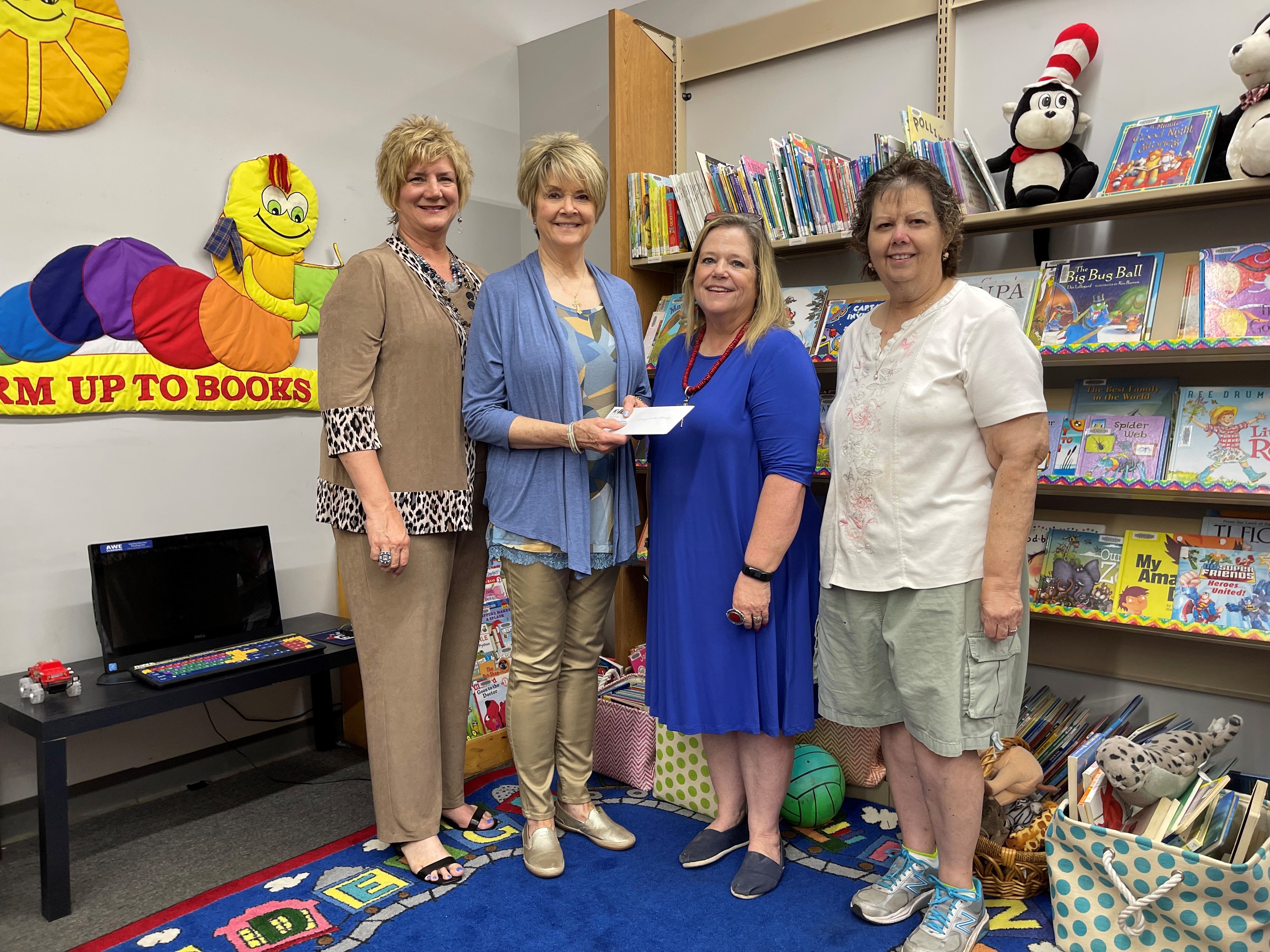 A little girl with hearts on her leggings and a bow in her hair walked up to the counter to return books and add them to her reading record.
"What did you like about this book?" assistant librarian Casey Nance asked as she checked in "There Was an Old Lady Who Swallowed a Clover."
"Oh, she eats way too much!" the girl said with a giggle.
The reading program at the Hominy City Library is a key program in the small town. It provides kids a chance to socialize and keep their minds churning and learning during the summer.
Led by head librarian Lindee DeRoin, the library applied for one of IEC Foundation's Operation Round-Up® grants. The foundation board chose to award funds to the Hominy summer reading program, which will strengthen its reach and resources. Operation Round-Up trustee Beverly Daugherty and IEC Member Relations Representative Clara Eulert recently visited DeRoin and Nance to present a check.
Operation Round-Up® is funded by IEC members who choose to participate by having their electric bills rounded up to the next dollar each month. The program and fund are governed by an independent seven-member board of trustees. Grants are awarded after an in-depth application, interview and board decision.
The grant for the Hominy library comes at a crucial time for the community's mindset, Nance said.
With the COVID-19 pandemic disrupting so much of daily life, residents there are hungry for the things that always have been within reach.
"Kids weren't around town. There weren't any bikes out. The pool was closed. No one was allowed inside the library. It was terrible," Nance said about last summer. "People were closed off from each other and activities that were important to them. Everyone was desperate for computer access and books."
A year later, things are beginning to reopen. DeRoin said about 35 children of all ages participate in the reading program each week. The first couple of weeks, the school provided a lunch that students were able to take home.
Each week is a new experience. DeRoin and Nance use their creativity and love for kids to develop activities that not only will be fun, but also educational. People in the community volunteer to read books to the group each week, and the activities relate to the storytelling in some way. One week, the city blocked off the street and the students flew kites. A graphic artist has visited to demonstrate how to draw cartoons, and during the week of the Cavalcade Rodeo, children celebrated cowboy stories and learned to rope and perform pole bending. An obstacle course is planned as the Olympic Games begin. DeRoin makes sure there is age-appropriate curriculum, and older students break off into a group for more challenging projects.
Aside from all the fun, the program fosters a love of reading and keeps fundamental skills moving during the break from school. Students are given seven weeks to read five books, and some read more, DeRoin said.
The grant awarded by Operation Round-Up® will allow DeRoin to facilitate the activities and give prizes for reading accomplishments. The library has a big pizza party at the end and students leave with a book of their own to keep.
DeRoin also plans to purchase Internet hot spots with the grant, and people will be able to check out the equipment like they would a book. It's an exciting opportunity for a rural area with limited high-speed Internet access.
As time has marched on, libraries remain a gathering place, a spot where the heart of a town can be found. Curious minds, young and old, depend on being able to locate information and have access to ideas, whether they are found on pages of paper or through modern technology.
"Some don't realize how important a library is to a community," DeRoin said. "A lot of people don't think libraries are relevant anymore, but they are. People need it, and not even just for learning. Some need a safe place to go."
For more information on Operation Round-Up® and how to apply as a nonprofit or individual in the IEC service territory, go to our Operation Round-Up® page. To participate as a donor to the program, please call 918-295-9500.